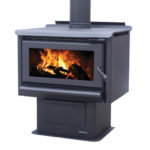 Masport R5000 Wood Fire – Pedestal or Legs
$2,599.00
R5000 Leg option $2,599
**Fire and Flue Package $3,448
R5000 Pedestal option $2,699
**Fire and Flue Package $3,598
Simply a great multi-purpose radiant fire built to produce substantial heat whilst being highly efficient.
Efficiently heats small to medium sized areas 190m2
NES, ECAN and ORC Airshed 1 approved
Large 8mm radiant cook top
6mm steel firebox for durability
Extended burn time*
Optional water booster available, clean air approved (2.7kW max)
Lined with masonry fire bricks and a 6mm steel baffle for efficient burning
Pedestal version has a built in ash pan to collect ash and make disposal easier
Easy installation with ash only floor protection required.
Pedestal and Leg version has an optional 2 speed fan.
*Extended burn time: Is it possible to achieve an extended burn time, when using a mixture of pine and hardwood. Burn period may vary due to factors such as moisture, density of fuel, environmental factors and how the unit is operated.
Product Specification
| | |
| --- | --- |
| Finish | Metallic Black finish |
| Est. peak output | 19kW |
| Emissions | 0.5g/kg (Dry) 0.6g/kg (Wet) |
| Efficiency | 71% (Dry) 66% (Wet) |
| | |
For all available downloads please visit:
https://www.masportheating.co.nz/products-1/r5000-freestanding-wood-burner-with-legs