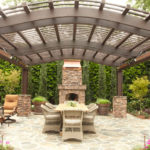 Infrared Heater from Infratech
 INFRATECH OUTDOOR HEATING
Dinner on the terrace. Cocktails under the stars. Now there is an eco-friendly way to turn up the ambience with Infratech infrared heaters. These low-profile electric heaters coordinate with many décor styles, and offer silent operation and superior performance compared to gas, with no harmful emissions or odors. Infratech infrared heaters are over 90% energy efficient, UL listed for outdoor and indoor use and are easy and inexpensive to operate.
Infratech has been an industry leader in electric infrared technology for more than 50 years. We offer a wide selection of heating options, for optimum comfort in any outdoor room or enclosed area. Our products are ideal for use in fine homes, restaurants, hotels and more.
Perfect for residential locations like any outdoor deck, pool area, indoor/outdoor rooms and outdoor kitchens , Infratech heaters are found in many of Australasia's finest homes. Commercially, Infratech continues to be the choice of many establishments. Whether it's an exclusive restaurant in Auckland's Viaduct or the local pizza joint in Waipu, our clients appreciate the advantages Infratech heaters offer to their business.
Category: Infrared
Availability:

In stock
C Series
Infratech's original patio heating series. Infratech's classic C-Series products are an excellent choice for most basic installations that require cost-effective controls. These classic heaters feature sleek profiles, recessed mounting options, short standoffs and low clearance heights between seven and ten feet, to provide optimal versatility in terms of installation locations and sizes. They are energy efficient, with wide, polished reflectors that provide comfortable, uniform distribution of heat over a broad coverage area. C-Series heaters are available in a variety of wattages and voltages, they are also a great value option.
CD Series
Double the warmth with infratech's CD-Series heaters. these high-powered units feature dual elements, to provide a more concentrated heat. This added power makes the CD-Series an ideal choice for recessed installations, premium outdoor heating  applications, and spaces with nine to twelve foot mounting heights and large-scale coverage areas. CD-Series heaters are available in a variety of wattages. they are typically installed with solid state controls, which can be used to vary the larger electric loads for comfortable heat in the widest range of conditions. as a value installation, dual element heaters can also be installed with duplex/stack switches, allowing for a half power or full power option.
Slimline Series
With crisp, modern styling, an anodized aluminium housing and narrow profiles, Slimline heaters virtually disappear into the surrounding décor. These heaters feature a durable anodized aluminium housing with an architectural finish, capable of withstanding years of outdoor use. Slimline heaters are ideal for surface mount applications up to ten feet, and feature a T-slot for flexible mounting options using the included brackets. Available in 1,600, 2,400, 3,000 and 4,000-watt models.
Infratech Infrared Brochures:
infratech brochure for commercial application