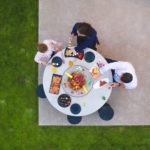 Escea EP1350 Fire Table Outdoor Wood Fire Table NEW
$3,995.00
Nothing brings people together quite like food and flames. Now Escea has found the perfect way to combine them both with the EP1350 Outdoor Wood Fire Table.
Inspired by the classic campfire, the Wood Fire Table is made for gathering, sharing, and marshmallow toasting. It's a new twist on an old classic. Only better, because Escea's Vortex Firecore technology gives you the warmth, ambiance and flames of a campfire, without all the smoke.
Less Smoke, More Flame
Escea's Vortex Firecore technology accelerates the air intake that fuels the fire, for a cleaner burn. This gives you bigger flames, with less smoke to avoid.
Vortex Fire Core Technology
At Escea, we're always thinking outside the box when it comes to innovative design and boundary – pushing technology, and the Fire Table is no different. Our team of engineers developed the Vortex Fire core technology which accelerates the air intake that fuels the fire – the more oxygen the fire has, the cleaner it will burn – meaning you get bigger flames, less smoke to avoid and more time enjoying what really matters.'
Social Cooking
Whether you're cooking for two, feeding the whole family, or hosting a tribe, the Fire Table offers a 360° social cooking experience that gets everyone involved. With three cooking modes to choose from – an inner stainless
steel ring for a consistent medium heat, a removable kebab holder, and a cooking grill for the perfect grilled tapas –
each person can cook their food just the way they like it. No longer is the designated cook relegated to the corner of
the deck, now they can be the life of the party. Plus, cooking on the Escea Fire Table with charcoal means it's a lot easier and faster to get the ideal cooking temperature for a delicious grilled feast.
Cool Touch
Keep your food warm and your drinks cool with Escea's innovative cool – touch technology. When the
fire is going, the outer ring is designed to be cool enough to rest your food, drinks or your elbows,
making it safe for the whole family. From dining to card playing and marshmallow toasting, the Fire Table cool –
touch feature lets you enjoy the moment without the worry of getting burnt – sit back and let yourself get lost in the flames. And when not in use, the weather cover makes the Fire Table a stylish outdoor table for entertaining, even when there's no fire.
Grill then Chill
Once the cooking is done, the Fire Table becomes your night companion. Remove the cooking grills and add some wood to bring the flames alive. Marshmallow toasting becomes mandatory and relaxing is a given. Whether winding down after a busy day or settling in with company, the Fire Table transforms into a social hub that's so good, you'll never want to leave.
User Manual (includes dimensions):