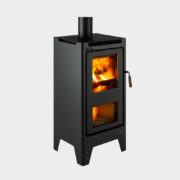 Woodsman Ferva Saturn ULEB
$5,299.00
NEW ZEALAND'S MOST ADVANCED WOOD BURNER
Modern clean-burning technology and designer styling make the Ferva Saturn the premium choice for sustainable home heating.
THE FERVA SATURN IS AN ULTRA LOW EMISSION LOGBURNER, ARCHITECTURALLY DESIGNED AND SO SIMPLE TO USE.
USER FRIENDLY DOOR ACTUATED MECHANISM
Ferva Saturn is one of the simplest ULEB fires to operate with no additional levers or slides to engage during use. Simply open or close the door and the clever door actuated bypass mechanism does the rest.
TWIN COMBUSTION CHAMBERS
The secret behind the Ferva Saturn's ultra-low emissions is the use of downdraught technology. By drawing the flame through the charcoals into the lower chamber and creating a longer flame path, a more efficient and cleaner burn is achieved.
CONVENIENT ASH PAN
The Ferva Saturn is equipped with a removable ash pan for easy cleaning with no mess.
COOK TOP FEATURE
The specially designed cook top surface gives you the opportunity to use your fire's heat for cooking.
TWO SPEED CONVECTION FAN
Transfers heat through the room using air currents, making sure heat reaches the whole area you want to heat and keeping your home cosy.
HIGH/LOW CONTROL
Adjust the heat output of your fire easily to maintain a comfortable temperature.
NO FLUE SHIELD REQUIRED
Enjoy the simple clean lines and elegant styling of your burner.
GENERATE POWER
The USB socket supplies 5VDC @1A, capable of powering and/or charging most USB devices.
SPECIFICATIONS
| | |
| --- | --- |
| DIMENSIONS | 1124h x 592w x 542d |
| WEIGHT | 190kg |
| COLOUR CHOICE | Charcoal or Pewter |
| CM1 APPROVED | Yes |
| CLEAN AIR APPROVED | All Zones |
| MAXIMUM OUTPUT | 18.9kW |
| PEAK DURING EMISSION TESTS | 15.1kW |
| FLOOR PROTECTOR | Ash Hearth |
| FLUE SYSTEM | 150mm Ferva Flue |
10 YEAR WARRANTY
Beneath the stylish exterior, the Ferva Saturn is constructed of 6mm carbon steel and comes with a 10 year firebox warranty. Consumable parts are covered by a 12 month warranty.
DESIGNED AND MADE IN NEW ZEALAND
Proudly designed and manufactured in New Zealand for our unique climatic conditions and for use with New Zealand standard woods.